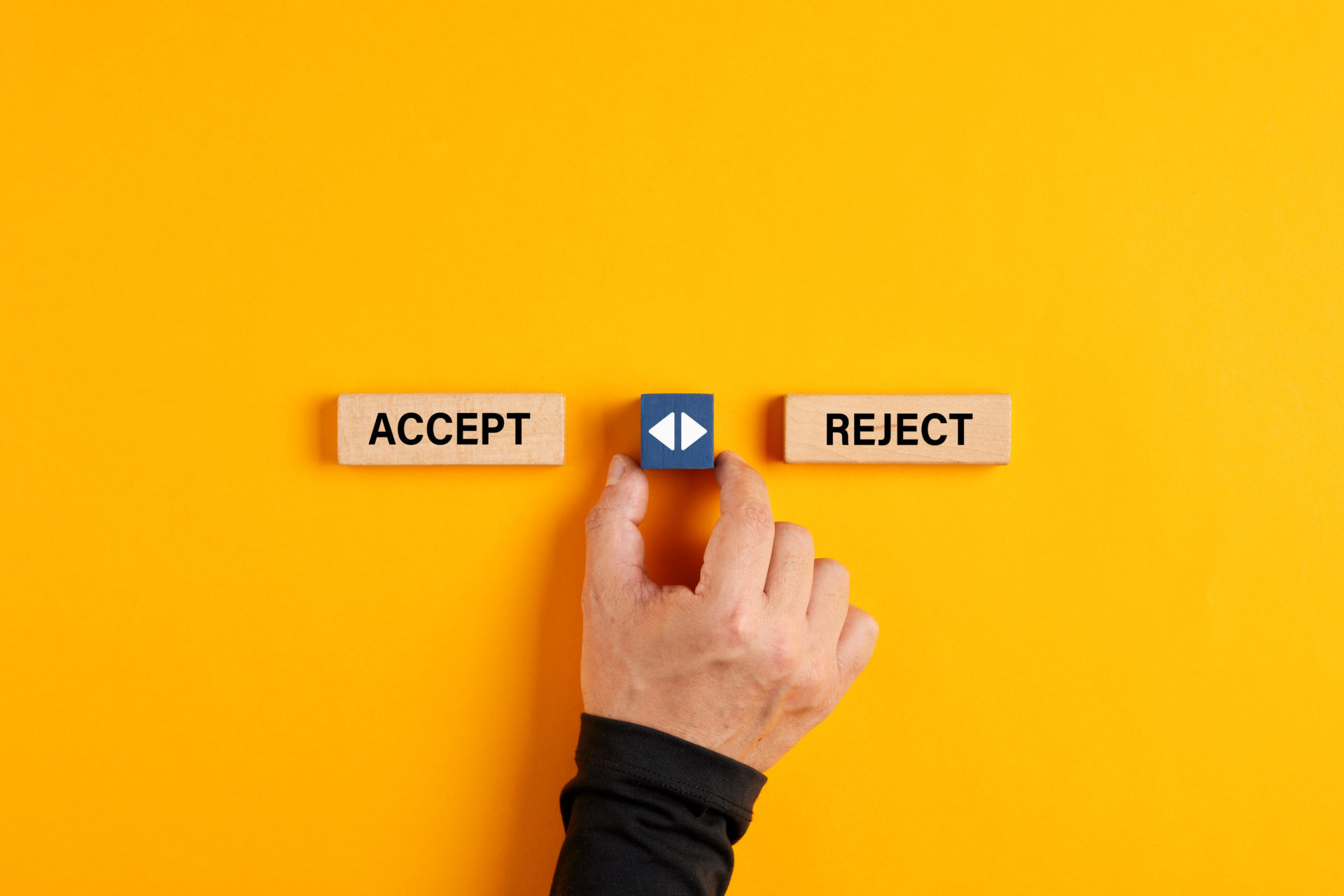 Figuring out how to decline a job offer is a good challenge to have, but it's a challenge nonetheless. After coming this far in the interview process, you've probably built up some level of rapport with the hiring committee and might feel a sense of guilt about letting them down. Maybe the decision was a tough one for you and you're still feeling some level of nervousness about it.
Whatever the case may be, turning down a job offer is something you'll probably have to do at least once in your career. Whether it's because you realized the position wasn't a good fit, you got a better offer from another company or some other reason entirely, being able to tactfully decline a job offer will serve you well in your professional life.
We'll share the right way to turn down a job and some helpful tips for bowing out gracefully.
Why It's Important To Decline A Job Offer The Right Way
You should never blow off a job offer, even if you've got a better one in hand. You've presumably been careful to act professionally throughout the interview process thus far, and your behavior shouldn't change just because you won't be taking the job. Tactfully declining the offer is an important step in maintaining a positive reputation.
The professional world is a small one, and it becomes even smaller when you're interviewing at different companies in the same industry. It's not uncommon for managers at competing firms to know one another or even be friends, and you never know when they'll compare notes on who they're interviewing. The last thing you want to do is to damage your reputation at the company you've decided to work for by acting poorly towards the one you didn't choose.
Don't burn bridges. Instead, you want to decline a job offer in a way that leaves the door open for a relationship in the future if the situation or timing is a better fit.
How To Decline A Job Offer Step By Step
1. Be Timely
Once you've decided that you won't be taking the job, let the company know as soon as possible. This is a professional courtesy that will be much appreciated by the hiring manager, who's likely eager to get a new hire up and running in the position.
Share your decision with the person who sent you the offer before telling anyone else. If it's been a long and/or intensive interview process, it's a good idea to break the news on the phone. Otherwise, an email works for informing them of your decision. 
Related: How to Withdraw From the Interview Process
2. Say Thank You
Use a tone of appreciation for the hiring manager's time. Yes, it's part of their job to hire people, but they've likely invested many hours vetting your resume, scheduling and conducting your interviews, and potentially going to bat for you with their superiors. So, show your gratitude by saying thanks. If you made a personal connection with them, this is a nice opportunity to call it out. For example, 'I really enjoyed talking with you about our shared interest in emerging AI technologies.'
Related: How to Write a Thank You Email After an Interview
3. Give A Reason
Unless something went horribly off course during the interview process or the hiring manager mortally offended you somehow, it usually makes sense to give them some context about why you've decided to go in a different direction.
Keep it short and don't go into too much detail. This isn't the time to share your feedback on how they could have made a better impression or to share that this was an agonizing decision for you. Instead, go with something brief and semi-generic, like 'after careful consideration, I've decided to accept a position at another company that I felt was a stronger fit for my skills.'
4. Consider Keeping In Touch
One of the great things about professional relationships is their potential to evolve over time. Just because a position wasn't the perfect fit for you right now doesn't mean you need to write off the relationship you've built with the hiring manager. You might cross paths again in a few years. If you feel it makes sense, include an invitation to keep in touch when you decline the job offer.
Sample Script To Decline A Job Offer When You've Accepted Another Position
Richard,
It's been a pleasure getting to know you and learning more about RR Steam Engine Company. I greatly appreciate the time you've taken to consider me for the role of chief engine operator.
While the job seems like a great opportunity, I've decided to accept a different position that will offer me more of a chance to manage a team.
I wish you the best for this year's travel season and hope our paths cross again in the future.
Sincerely,
Josephine
Sample Script To Decline A Job Offer When The Job Is Not A Good Fit
Sandra,
Thank you for offering me the role of lion tamer at the Minneapolis Zoo.
While it's been wonderful getting to know you and your team, I've decided that the job isn't the right fit for my broader career goals.
I sincerely wish you the best in your future endeavors and look forward to visiting the renovated lion exhibit this spring.
Best,
Tony
Sample Script To Decline A Job Offer Because Of Pay
Alejandro,
Thank you very much for the opportunity to work at 360 Marketing.
While it sounds like an exciting position and I thank you for your willingness to negotiate, I must decline the job at the current salary.
It's been a pleasure working with you throughout the interview process and I hope we can stay in touch.
Sincerely,
Diana
Helpful Tips For Turning Down A Job Offer
Be Direct
Don't use language that may appear to waver, like 'I think' or 'I feel,' which may risk giving the impression that you're still considering taking the job. Use direct language that makes it clear you're declining the offer.
Don't Criticize
Even if the interview process made you want to run for the hills, don't use this as an opportunity to lay out everything that's wrong with the company. If you can't be totally forthcoming about your reasons for not taking the job, say something generic like 'I've decided to move forward with another company.'
Be Prepared For A Counter Offer
While it's rare for a company to come back and make a second offer after being turned down, it's not unheard of. Perhaps you were in heavy negotiations about salary and they weren't fully convinced you'd walk away if they didn't offer the amount you asked for. Or, maybe they're simply willing to meet whatever requests you have to get you to come onboard.
When declining an offer, it's helpful to consider this possibility and how you might respond to it. Are you declining, full stop, or is there something that could make you change your mind? Giving it some thought ahead of time ensures you're not caught off guard if the hiring manager poses the question on the spot after receiving your response. 
Related: How to Negotiate a Job Offer
Set Yourself Up For Success With 4 Corner Resources
Having multiple job offers to choose from is a great position to be in. Increase your chances of finding your dream job by working with the staffing experts at 4 Corner Resources. Our team matches candidates with positions that are a natural fit, so they're one step ahead on the path toward getting an interview and landing the job. 
To start working with us, submit your resume to connect@4cornerresources.com or contact us to learn more.