How to Recruit and Hire in Low Unemployment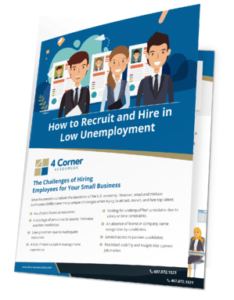 Hiring employees for your small business presents many challenges. These challenges make it imperative to find efficient and cost-effective recruiting solutions that help you recruit and hire top talent.
This tip sheet on how to recruit and hire for small businesses covers:
An overview of the state of small business employment in the U.S.;
The costs of hiring in-house vs outsourcing your recruiting; and
10 tips for how to make your business stand out from competitors.
Receive a complimentary copy of our tip sheet by filling out the form on this page.