Download Our Salary Guide for Competitive IT Recruiting Today!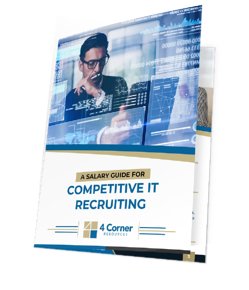 In today's digitally-driven market, where tools and technologies are rapidly evolving, it can be a challenge to attract and retain IT professionals with the skills and experience you need to keep your business secure and efficient.
To help, our team of dedicated IT headhunters created a Salary Guide for Competitive IT Recruiting!
Download it now to uncover current hiring trends and competitive salaries for top IT talent with the most current skills and relevant experience. With this knowledge, you'll be able to align your recruitment strategy and compensation packages to use as your advantage against other employers in the industry!
Need additional support? Turn to the experts at 4 Corner Resources, Florida's premier IT staffing agency. Partner with us, and we'll focus on recruiting so you can focus on your business!