The Facts and Figures About Hiring Professional Staffing Services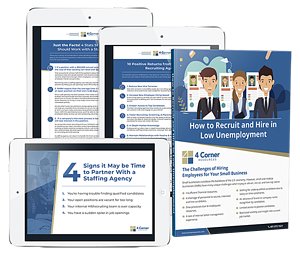 In today's competitive, candidate-driven labor market, it can be a challenge to find the top talent you're looking for. In fact — nearly two-thirds of employers say they're currently having a difficult time finding qualified candidates.
So, how can you overcome common recruitment obstacles to attract and place the talent your business needs to continue meeting its growth goals? Partnering with a professional staffing agency could be your solution.
But how can you be sure this is the right move for your business, or if you're even ready for professional staffing services? The Facts and Figures About Hiring Professional Staffing Services Guide is here to help you make this decision with confidence! In it, you'll find:
Just the Facts! 4 Stats Showing Why You Should Work with a Staffing Agency. Numbers don't lie—get the facts that prove the benefits of working with a staffing agency.
10 Positive Returns from Investing in a Recruiting Agency. Discover the positive returns your business can experience through a staffing agency partnership.
4 Signs it May be Time to Partner with a Staffing Agency. Not sure if your business currently needs professional staffing services? Here are 4 signs you might.
How to Recruit & Hire in Low Unemployment Tip Sheet. Gain access to clear, concise, and easy-to-implement tips that will revamp your hiring processes as you work alongside a recruiting agency.
These resources are all included in our comprehensive, easy-to-read guide! They'll give you the knowledge and confidence necessary to make a well-informed decision that could transform your recruitment and hiring processes for increased success.
[contact-form-7 404 "Not Found"]